Amanda Gorman read an original poem Sunday before the Super Bowl, a tribute to an educator, nurse, and Marine vet for their contributions during the pandemic.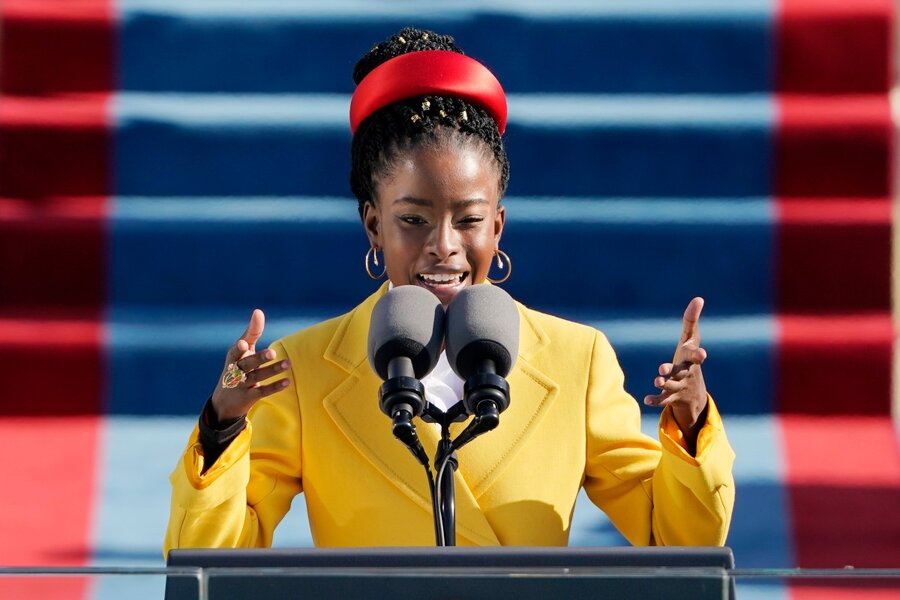 AP Photo/Patrick Semansky, Pool
American poet Amanda Gorman reads a poem during the 59th Presidential Inauguration at the U.S. Capitol in Washington,Jan. 20, 2021.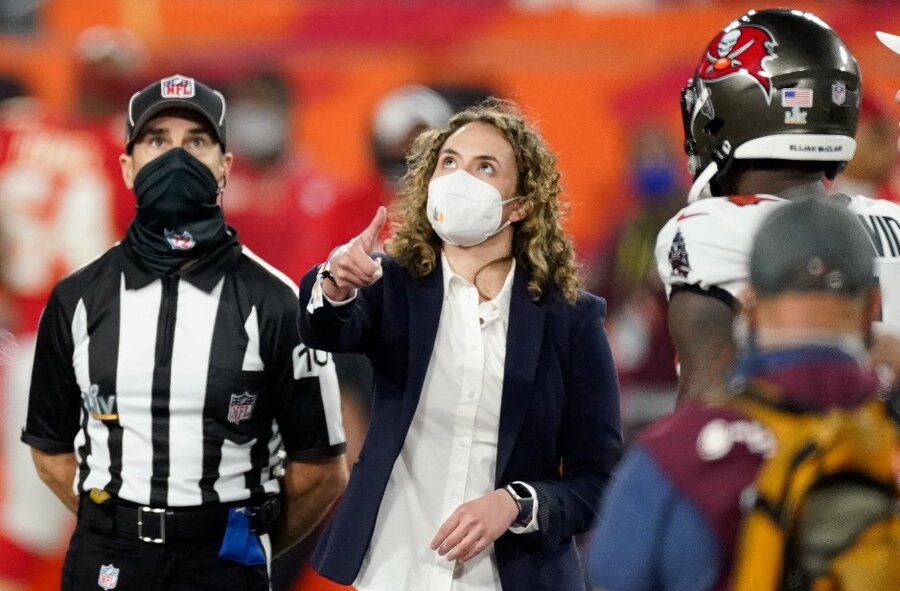 Suzie Dorner, a health care worker honored by Amanda Gorman, tosses the coin before the NFL Super Bowl 55 between the Tampa Bay Buccaneers and the Kansas City Chiefs, Sunday, Feb. 7, 2021, in Tampa, Fla.
By

Jake Coyle




Associated Press
New York
Amanda Gorman, the 22-year-old poet who stirred America at the inauguration of President Joseph Biden last month, again commanded the spotlight on one of the country's biggest stages, the Super Bowl.
Gorman read an original poem Sunday during the pregame festivities in Tampa, Florida. The poem, titled "Chorus of the Captains," was a tribute to three people for their contributions during the pandemic: educator Trimaine Davis, nurse manager Suzie Dorner and Marine veteran James Martin.
Gorman didn't perform on the field but appeared in a taped video message that combined Gorman's reading with images of Davis, Dorner and Martin. Recited Gorman:
"Let us walk with these warriors,
Charge on with these champions,
And carry forth the call of our captains.
We celebrate them by acting,
With courage and compassion,
By doing what is right and just.
For while we honor them today,
It is they who every day honor us."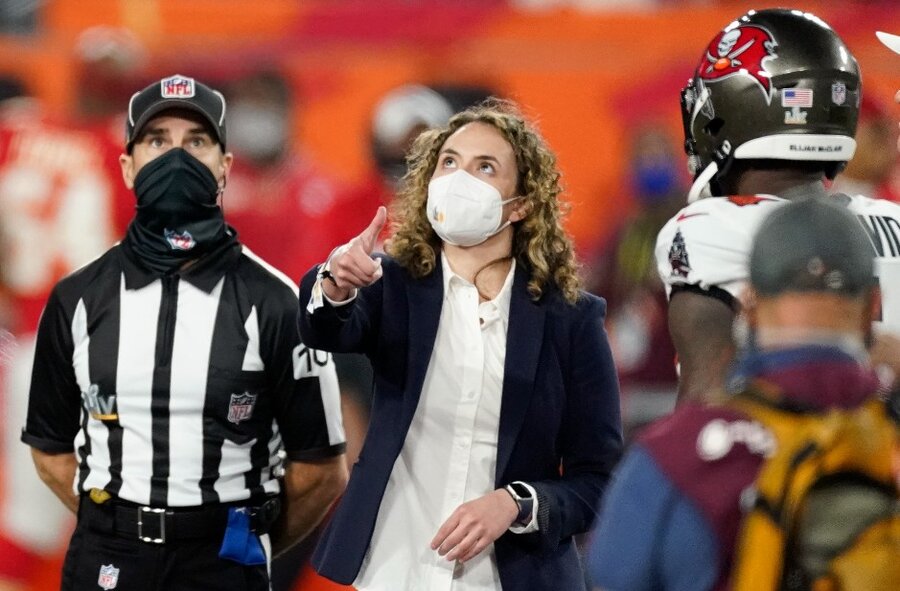 Suzie Dorner, a health care worker honored by Amanda Gorman, tosses the coin before the NFL Super Bowl 55 between the Tampa Bay Buccaneers and the Kansas City Chiefs, Sunday, Feb. 7, 2021, in Tampa, Fla.
That Gorman brought poetry to the Super Bowl was an almost unthinkable collision of grace and glitz. But if the Super Bowl, an annual rite of excess, was an unlikely platform for a poet, it showed just how much Gorman has seized the nation's spotlight since the inauguration.
Gorman, previously the country's first National Youth Poet Laureate, was the youngest person to ever recite a poem at the U.S. presidential inauguration. Her reading of "The Hill We Climb" at the Capitol immediately became a sensation. An illustrated book of her poem quickly zoomed to the top of bestseller lists. Shortly after the inauguration, she signed with IMG Models, an agency that represents supermodels, tennis star Naomi Osaka and playwright Jeremy O. Harris. This week, she covers Time Magazine, in an interview conducted by Michelle Obama.
Gorman's Super Bowl appearance had been planned before the inauguration. She seemed to grasp the unlikeliness of her pre-game reading, the first in Super Bowl history. And with potentially 100 million viewers on the CBS telecast, it made for one very well-attended poetry recital.
"Poetry at the Super Bowl is a feat for art and our country, because it means we're thinking imaginatively about human connection even when we feel siloed," Gorman said Sunday on Twitter. "I'll honor three heroes who exemplify the best of this effort. Here's to them, to poetry and to a Super Bowl like no other."
Dear Reader,
About a year ago, I happened upon this statement about the Monitor in the Harvard Business Review – under the charming heading of "do things that don't interest you":
"Many things that end up" being meaningful, writes social scientist Joseph Grenny, "have come from conference workshops, articles, or online videos that began as a chore and ended with an insight. My work in Kenya, for example, was heavily influenced by a Christian Science Monitor article I had forced myself to read 10 years earlier. Sometimes, we call things 'boring' simply because they lie outside the box we are currently in."
If you were to come up with a punchline to a joke about the Monitor, that would probably be it. We're seen as being global, fair, insightful, and perhaps a bit too earnest. We're the bran muffin of journalism.
But you know what? We change lives. And I'm going to argue that we change lives precisely because we force open that too-small box that most human beings think they live in.
The Monitor is a peculiar little publication that's hard for the world to figure out. We're run by a church, but we're not only for church members and we're not about converting people. We're known as being fair even as the world becomes as polarized as at any time since the newspaper's founding in 1908.
We have a mission beyond circulation, we want to bridge divides. We're about kicking down the door of thought everywhere and saying, "You are bigger and more capable than you realize. And we can prove it."
If you're looking for bran muffin journalism, you can subscribe to the Monitor for $15. You'll get the Monitor Weekly magazine, the Monitor Daily email, and unlimited access to CSMonitor.com.